Wood Handle (Classic Model)
Total lenght:
17" 1/2
44.5 cm
Blade lenght:
11" 1/4
29 cm
Blade width:
Approx. 1" 1/2
4 cm
Suggested Retail Price (US$):
$ 119

This "Sabre &agrave Champagne" is made in the City of Thiers, French capital of the cutlery.
The blade is made of 440 grade stainless steel, with a Rockwell hardness of 56/54 to insure the highest quality.
(It comes from the same foundry and use the exact same stainless steel than the very prestigious Laguiole's knives.)
The handles is in palissandre bubinga wood.

Never sharpen the blade
(Unnecessary to open Champagne, since one uses the back of the blade)
Do not wet the wooden handles
(They are made of precious "Pallissandre" wood).
Never put your Sabre &agrave Champagne in the dishwasher.
Wipe them with a soft cloth.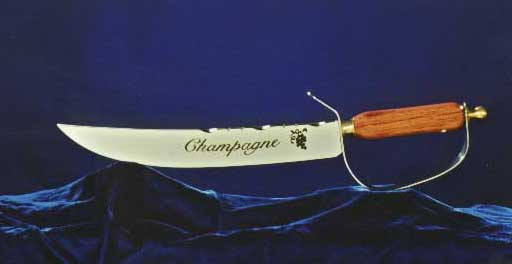 The Saber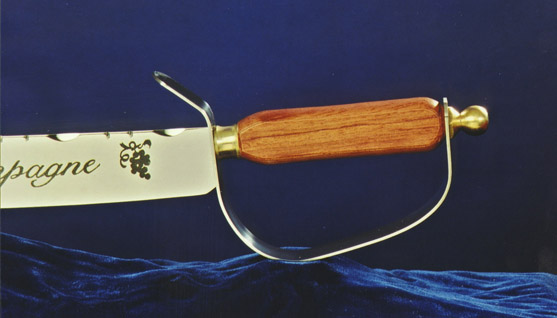 The Handle

With the optional stand


With the optional Wood Box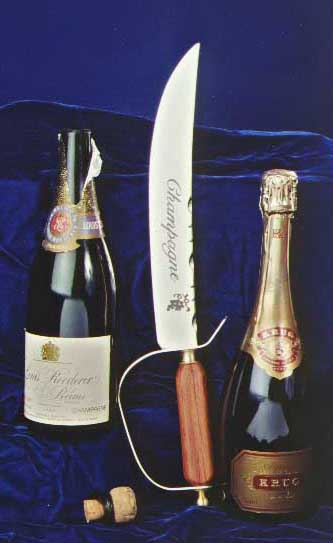 SabreaChampagne.Com
The Only way, to Celebrate Champagne
About Us | Services & Products | Where to Purchase | Contact Us